Are you wondering what will happen to the Ibiza Property Market in 2023 and beyond?
Between 2016 and the end of 2022, asking prices of property on the market have risen by 71% on average fueled by high-end new developments across the island and increased demand in general. On top, one could benefit from historically low interest rates pushing real estate purchases to all-time highs. Also the business sector (services, hotels, F&B) in general has been thriving on the results of a growing economy in many European countries.
Never ever, more properties have changed hands like in 2022, where a total of 2007 properties have been sold. That was a rough 12% more than in boom-year 2007, before the previous housing crisis. Still, we don't expect a huge slowdown of the market in Ibiza. Remember, 2000 home sales in a year might be a lot, but there are roughly 17 millionaires in Europe… of which an increasing number considers the island for a second home. Ibiza is a luxury product, known for its clubs. However, the tide has turned slowly, and we see families with older and younger kids. In 2023, keywords are gastronomy, sports, padel, hikes and long lunches on the beach… And maybe – if you fix a nanny or when the kids go out themselves – you can check in on a club. However, you will find the majority tucking in on time to be ready to rise and shine the next day.
Below, we will provide you with a set of tools (information) for you to make a well-informed property decision. Our graphs are automatically updated with the latest data available. There is information on the total market of Ibiza (property prices, sales, nationalities, business demography, and seasonal demand). Next to this, we share hyperlocal statistics. In the end, there are some big differences between North, East, South and West…
IBIZA HOUSING MARKET INSIGHTS
asking prices in Ibiza have gone up by 71% in the past 6 years. Sant Antonio saw prices rising the most, 108%. The area of Ibiza Town and around saw the least growth, 'only' 29%. Owning a second home in Ibiza was popular for a little while, especially property in and around Ibiza Town was in high demand. When demand began booming, people started to look around on other areas of the island. In the end, nothing is more than 30–45-minute drive away. As well, changing lifestyle wants and needs have caused the more rural areas to become highly sought after resorts.
Where the total amount of homes sold in a year went down by 64% in the previous crisis (2007-2013), home sales in Ibiza went down by 35% and regained their pace within 2 years after the crisis. Spain in total is still struggling to reach pre-crisis levels. However, this huge amount of interest in the market comes with a set of struggles for the island as well. Affordable housing for service providers is in the danger zone… Receiving yearly 3-4 million of "guests" on an island with 160.000 takes it toll on utility networks for electricity, water and sewage… Don't rent your apartment to tourists… If you stick to the rules of the island and, have a contribution mindset, you will be welcomed with open arms. For 2023, we expect a little softening of the market in terms of prices and amount of sales. Still, this won't be enough for any bargain shopping. Stock levels are still very tight… 
IBIZA PROPERTY PRICES PER M2 IN IBIZA 2008-2023
HOME SALES IN IBIZA PAST 2 YEARS PER MONTH
HOME SALES IN IBIZA PAST 15 YEARS PER YEAR
Who is actually buying property in Ibiza? Tourism is a big driver of the island economy. There are 20 times more tourists coming to the island, than the actual size of the registered population. A part of which are considered 'tourists', own a second home in Ibiza. They visit the island on a regular base, especially when there are good direct flight options. Also the increased number of direct flights in the typical low season (November-March) from and to the bigger cities on the mainland, France, The Netherlands, Germany and the UK cause many ibiza-lovers to buy a second home.
Slowly we see the low season and mid season coming closer to each other. In short, winters are not like 2010 anymore. Nowadays, you will find a vibrant culture with people seeking sports and leisure time… New Years in Ibiza… Almond Walks followed by a BBQ… Stylish Bingo Nights at the Standard… Hikes organized by Ibiza Walking and Dinner Party nights at Roto Ibiza.
Tip: When looking for a property that is ready for all-year-round trips, make sure properties offer the comfort for all year-round living. Some properties are less made for it due to basic heating systems or humidity issues.
FOREIGN NATIONALITIES LIVING IN IBIZA 2010-2023
VISITORS IBIZA BY NATIONALITY 2010-2023
MORTGAGE MARKET AND INTEREST RATES
If you plan to finance your future property purchase with a mortgage from a Spanish bank, we can tell you that mortgage rates are still historically low. However, while not as cheap as 3-4 years ago, average loan rates are still about 3%. Banks will finance approximately 60-65% of your property purchase if you are financially stable. Banks will not finance the property purchase taxes/costs, which are approximately 9% for a €500.000 apartment and increase to approximately 13-14% for a €5.000.000 villa.
INTEREST RATES & FIXED VARIABLE MORTGAGES 2009-2023 - YEARLY
INTEREST RATES & FIXED VARIABLE MORTGAGES 2009-2023 - 24 MONTHS
LOAN-TO-VALUE RATIO MORTGAGES 2023
Ibiza's economy is driven by the tourism industry. As a result, the type of accommodation tells a lot about the type of guest. The graph below depicts the distribution of hotel licenses across various star rating accommodations. Just 15 years ago, there wasn't much high-end accommodation. High-end partygoers would primarily stay in private accommodations and villas and come here solely for the party. Since 2006, a lot has changed. With the introduction of better restaurants and the branding of Ibiza as a legitimate gourmet and sporting destination (rather than just a party island), we have seen the lower star accomodation change to 5* locations.
TYPE OF TOURIST (ACCOMODATION)
Ibiza, as a small island, has a very diverse property market, and each of the distinct areas attracts a specific target demographic. Santa Eularia del Rio (mostly Talamanca and Santa Gertrudis) and Sant Josep de Sa Talaia (Es Cubells) are the top A-locations on the island, with villas priced between €10.000 and €15.000 per m/2. Sant Joan has joined the A-list gang in the last two years, becoming the go-to spot to host your family/friends, not focused on partying, but on living a tranquil, luxury lifestyle up north.
Although Sant Antonio may not have the most enticing reputation, the neighborhood is undoubtedly on the rise as the island's stock shrinks. Eivissa, where the majority of properties are sold, is largely populated by year-round residents who want and need to be close to a variety of amenities.
Eivissa is the smallest municipality on the island and is home to Ibiza Town, the island's capital. The majority of homes are sold here, which is understandable given the area's high development density. The area's m2 prices have more than doubled compared to the rest of Eivissa. The most expensive areas of this municipality are Dalt Villa – La Marina (the region around Ibiza's old town) and Marina Botafoch, with average prices per m2 of just over €6.000 p/m2. The cheapest houses can be found in Figueretes and Can Misses, where you can purchase an apartment for just over €4.000 p/m2.
AVERAGE M2 PRICES AND HOMES SOLD IN EIVISSA 2010-2023
Santa Eularia del Rio runs all the way from the north side of Ibiza Town to San Carlos, encompassing the entire south-east region of the island. This municipality contains A-locations such as Talamanca and Santa Gertrudis. Santa Gertrudis was a big hit with Dutch and French second home purchasers. In this neighborhood, there aren't many homes for sale under a million euros. Talamanca and its environs, popularly known as the soccer coast, are home to several high-end apartments and terraced sea view villas. As a result, it's no surprise that the average size of residences on the market in this area exceeds €7.000m2. The town of Santa Eularia, typically was home to a lot of German second home buyers. Nowadays, you will see a balanced mix of European second home buyers along the local population.
AVERAGE M2 PRICES AND HOMES SOLD IN SANTA EULARIA DEL RÍO 2010-2023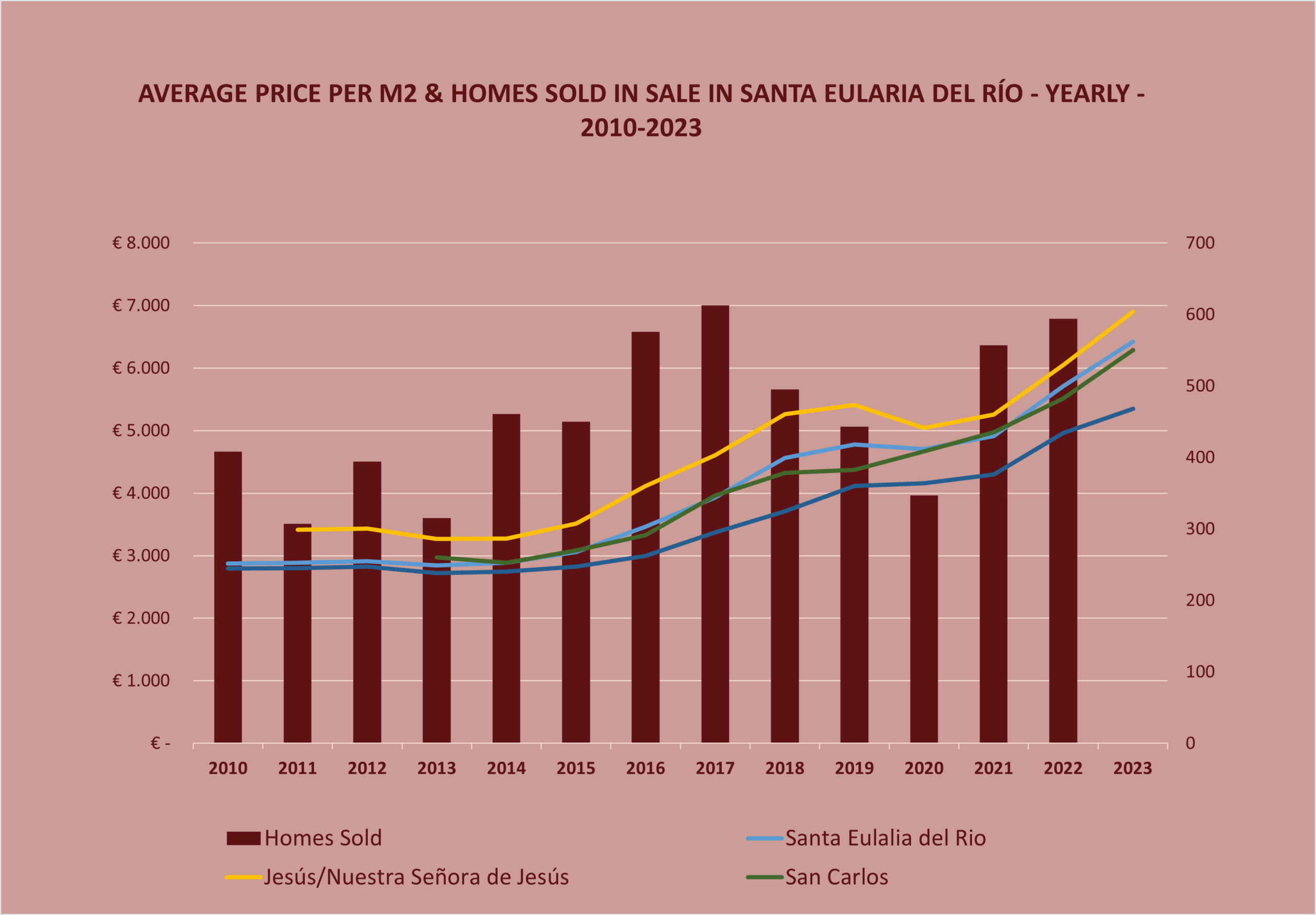 The other Gold Coast on the island, the area around Es Cubells, Cala Jondal, and Sant Josep, is located in Sant Josep de Sa Talaia. Prices have grown by 250% in ten years in this area! If you want to spend your time in the evening, you will most likely purchase a house on this side of the island (northern section of Sant Josep), as the sun sets on this side. These regions have significantly fewer flats and more villas, which explains the high costs per m2 that average around €8.000 p/m2. However, if you want complete sea views in a superbly designed high end property, expect to pay roughly €15.000 p/m2 or more.
AVERAGE M2 PRICES AND HOMES SOLD IN SANT JOSEP DE SA TALAIA 2010-2023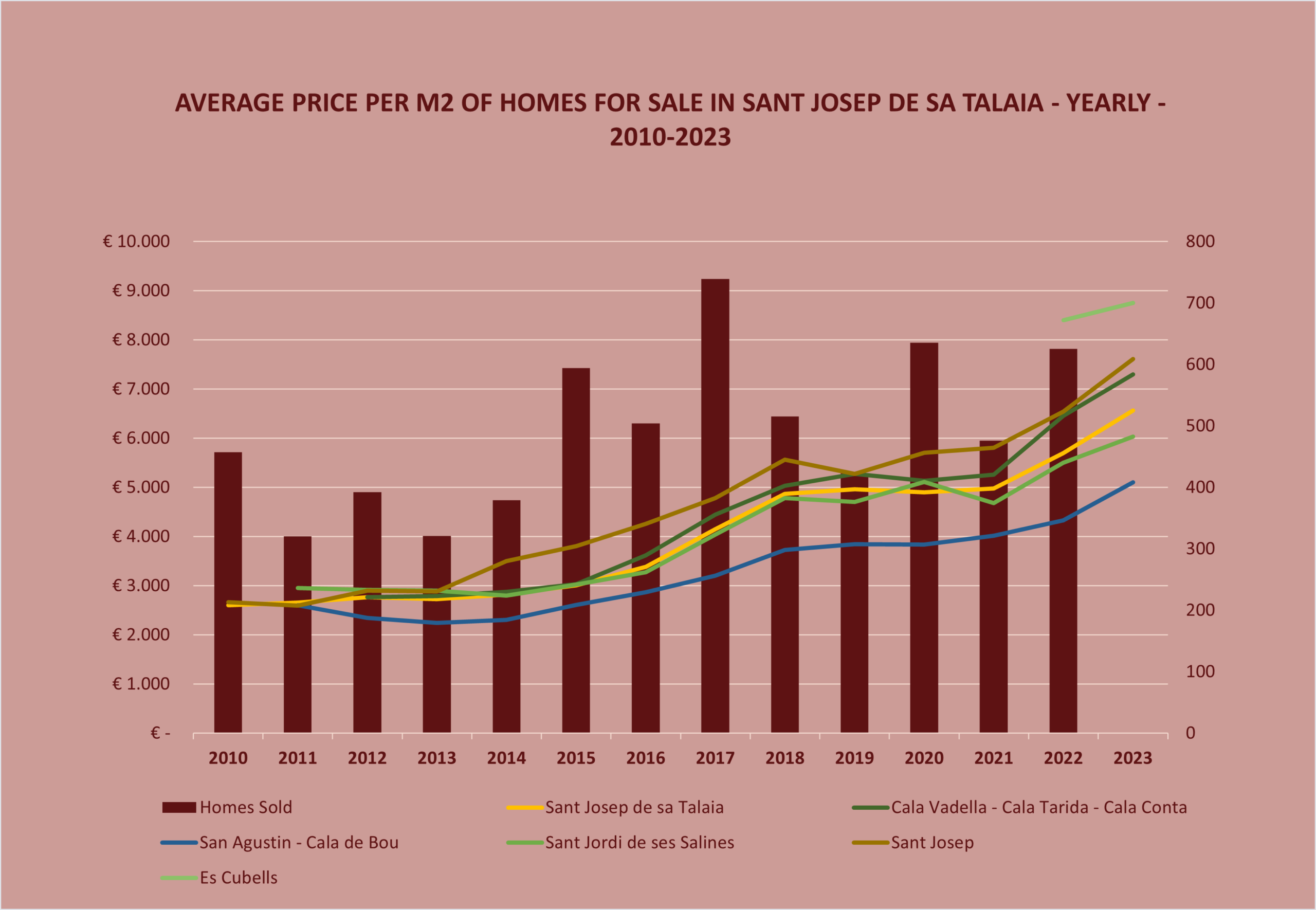 For a long time, Sant Antoni de Portmany was considered the least sexy due to its negative reputation with intoxicated English youngsters hanging around in "happy hour" bars. Sant Antonio's coastline is adorned with slightly run-down apartment buildings, giving the area a shabby air. However, local governments have been putting in a lot of effort to address minor issues at their source, and things have been improving since then. People began to pick San Antonio again, leading prices to rise, as a result of the post-pandemic boom, limited stocks on the island in general, and rising demand.
There are definitely attractive spots here, such as the East Side of San Antonio, which stretches from Cala Gracio (containing 5* hotels, a Michelin star restaurant, and popular beach clubs) up to San Mateo, which is tranquil, gorgeous, and highly sought after due to its location in the north.
AVERAGE M2 PRICES AND HOMES SOLD IN SANT ANTONI DE PORTMANY 2010-2023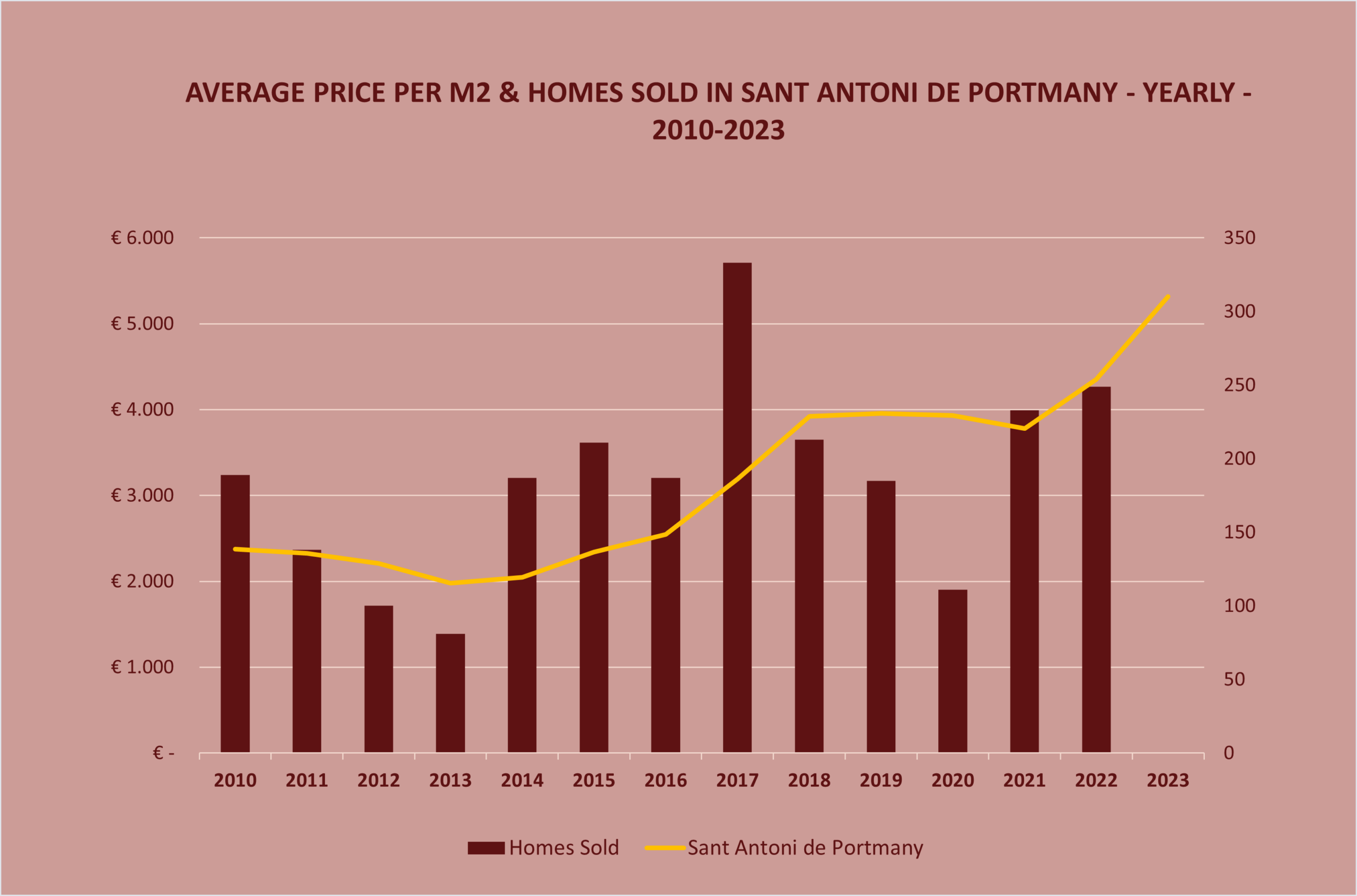 There aren't many apartment buildings in Sant Joan. This location is becoming increasingly attractive, owing to its reputation for providing a strong contrast to bustling city life. Because there aren't many residences built in this neighborhood, it's also quite exclusive. In this municipality, only 50 properties (more or less) change hands per year. Living here means you'll be largely involved in what's going on on the island's northern side. You will be less tempted to visit boozy (beach) clubs and more focused on your family life, visiting friends, and leading a more relaxed lifestyle.
AVERAGE M2 PRICES AND HOMES SOLD IN SANT JOAN DE LABRITJA 2010-2023