Property Prices in Ibiza 2007-2020 Compared to Other Markets in Europe
Property prices in Ibiza have been rising steadily. We have seen values rising 35% from 2015. Only the Netherlands and Portugal have seen bigger figures, respectively 41% and 53%. Property prices in Italy have seen the lowest growth of just 5% and when comparing to 2010, property investors have seen their residential assets shrink by…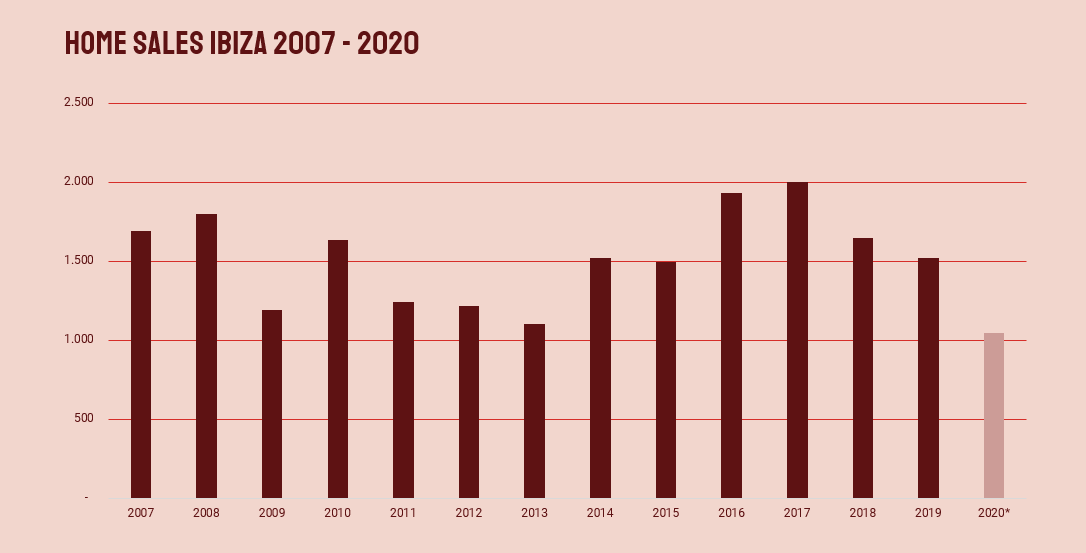 Property prices in Ibiza have been rising steadily. We have seen values rising 35% from 2015. Only the Netherlands and Portugal have seen bigger figures, respectively 41% and 53%. Property prices in Italy have seen the lowest growth of just 5% and when comparing to 2010, property investors have seen their residential assets shrink by a rough 20%. What is happening in the real estate markets in Europe and how does the property market in Ibiza compare to other potential markets like in your home country?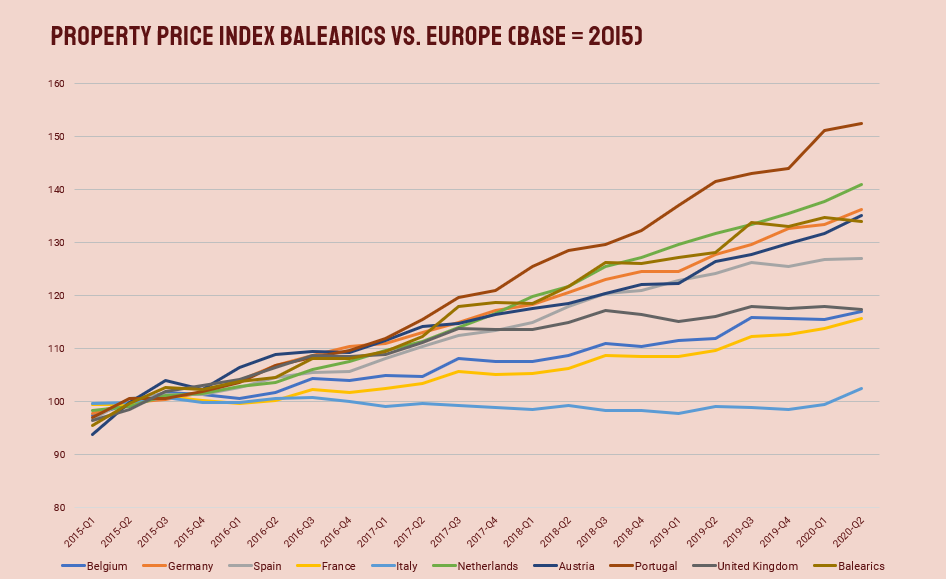 Property Prices in Ibiza, Balearics and Spain
Property prices in Spain and particularly in the Balearics have seen mid to high range increases. However – when comparing to the financial crisis – the Spanish market still hasn´t fully recovered from pre-2008 levels, whilst the other markets which we see in the mid to high range have been beating records. According to many industry insiders, like multi-billion property investor Stephane de Baets, there is room for growth. He placed Spain, in particular, Ibiza, Madrid & Barcelona in the top 8 places to invest for the next decade.
"According to De Baets, Ibiza is a great place for remote working. For the price of a two-bedroom apartment in New York, you can have a seven-bedroom mansion in Ibiza, a nice workplace, and a good internet connection, he said." (Source: BusinessInsider)
"S&P forecasts that the Iberian nation will go from being one of the countries where prices fall the most as a result of the coronavirus crisis, only to then be among the markets where housing will become more expensive."(Source: The Local)
At this point, we can only agree as we haven´t seen huge price drops in the market. Of course, some sellers have lowered their prices because they have seen themselves forced to sell and dropped their price to market value instead of keeping the house overpriced hoping for an impulsive buyer. Nowadays, with all the technology and data available, buyers are more price-savvy and will never pay too much above market value.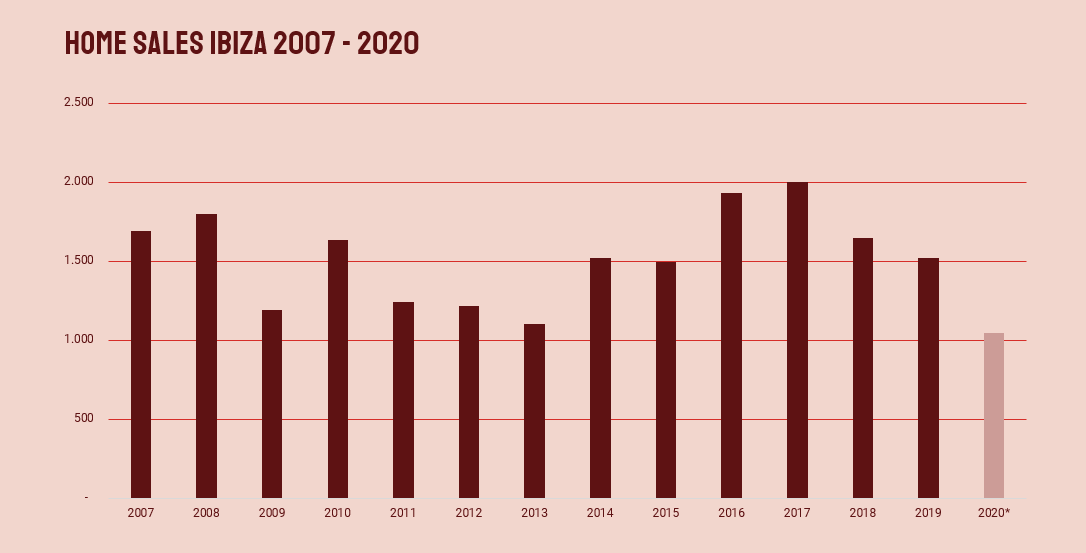 In all, we have seen fewer property transactions in Ibiza during 2020. So far 820 properties have been sold, compared to 1.144 in the same period, last year. Until the end of this year we estimate 1.045 to be sold, 30% less than last year. Still, property prices are holding very well. As we finally see light at the end of the covid-tunnel, we expect people being able to travel to Ibiza again and home sales picking up. We even expect an extra influx because more people will start to (partially) relocate to the attractive lifestyle on this island.
What made property prices rise that much in the Netherlands, Germany, Austria & Portugal?
To answer this question, we should compare the situation with the previous crisis in 2008-2011. Those days, there was much more supply on the market (soft property market), whilst now we are in a very tight market. Moreover, the interest rates for mortgages were much higher compared to the low rates we are seeing today. The combination of a tight market and the low interest rates made sure there was no corona-crisis-effect on the property market. Under these circumstances, fueled by healthy household finances, and with the solution for the pandemic in hand, the market is not expected to soften very soon.
The United Kingdom, not in the Top-5, Why is that?
There has been a lot of noise in the market around Brexit. Foreign investors have shown to be slightly more cautious and have been exploring other markets like the ones mentioned above. There is a lot of uncertainty (read: speculation value) in the market. We don´t know what will happen when the UK has left the EU. Specialists mention a rise of the pound, making it cheaper for the British to invest elsewhere. However, the slowdown in growth comes after years of steady growth. Each pound invested in 2010 in the residential market would bring you a return of roughly 30% in 2020.
The French, Belgium and Italian market have seen the weakest growth in the past 5 years
When you would have bought a property in Belgium, 10 years ago the property value would have risen by a rough 20%. In France, your return would have been 15%. In Italy, your property value would have fallen by 10%. The property market in France remains weak with unemployment at a record high and the economy hardly moving. Moreover, the rental market is very controlled and offers a low return, causing investors to turn to other markets. The weak growth in Italy is caused by a very steep increase from 2000-2008 (almost 85%!). When the crisis hit in 2008 prices started to fall and unlike other European countries with more vibrant economies, house prices haven´t been able to recover.
In conclusion, we can say that apart from a general consolidation period that started in 2019 (after the 2015-2019 boom), property prices in Ibiza will continue to rise soon. The new normal and increased digitalization will give people more freedom of where to live. They don´t necessarily need to stay in the heart of Amsterdam, Berlin or London in order to perform. Places that offer a high quality of life will become more important. As general wealth increases, people will be more focused on spending their precious time in the best way. Still, living close to a beach, having plenty of ways to rewind/relax in nature and living a laidback lifestyle are one of Ibiza´s best characteristics and in full contrast with busy city life.
The higher-end market in Ibiza, mainly fueled by foreign financial healthy households, will benefit from increased wealth in all the European countries. In the end, supply is limited, and we all know what scarcity does with pricing.
Looking for a new place to dine on the White Isle? Here we have compiled 10 of our favourites to save you the hassle of searching. Before going, please check the Summer/Winter schedule if they are open… 😉 Can Mussonet Calle de Pere de Portugal 1, 07816 San Rafael, Ibiza Spain A hidden oasis tucked...
Read more