Discover Las Terrazas de Ibiza
Las Terrazas de Cala Tarida is a modern apartment development constructed in 2009 with the idea to create second homes for the ones seeking a comfortable getaway. The easy to maintain 2- and 3-bed apartments offer sea & sunset views and are less than a minute walk to the beach. The spacious terraces are one…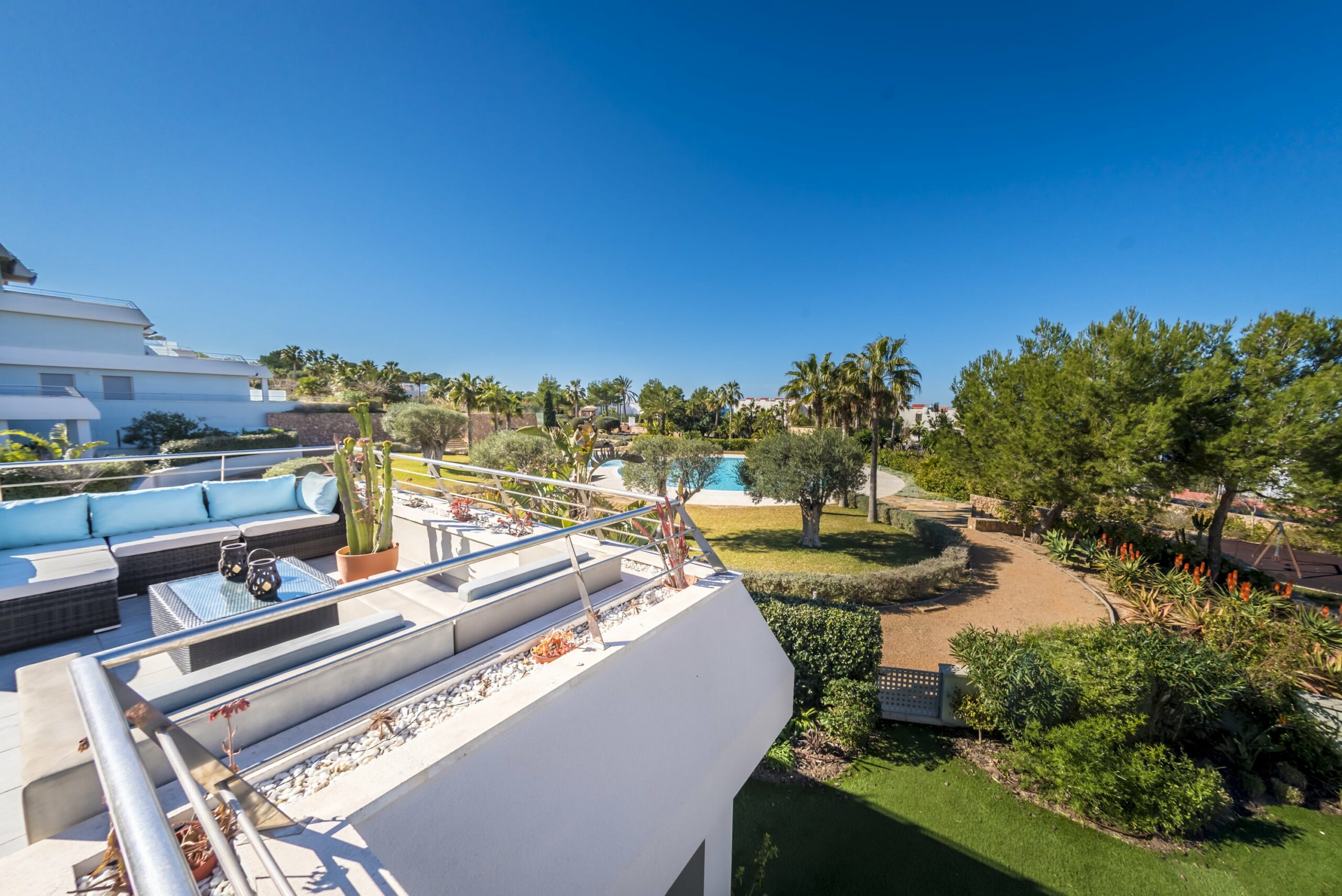 Las Terrazas de Cala Tarida is a modern apartment development constructed in 2009 with the idea to create second homes for the ones seeking a comfortable getaway. The easy to maintain 2- and 3-bed apartments offer sea & sunset views and are less than a minute walk to the beach. The spacious terraces are one of the many unique features this complex has to offer. Together with the well-maintained outdoor entertaining areas including beautiful gardens, big pool, padel tennis court and kid's play area, this makes this development a unique piece on the west coast of Ibiza. There are 69 apartments distributed over 3 blocks and 17 in a separate block with it's own swimming pool and community.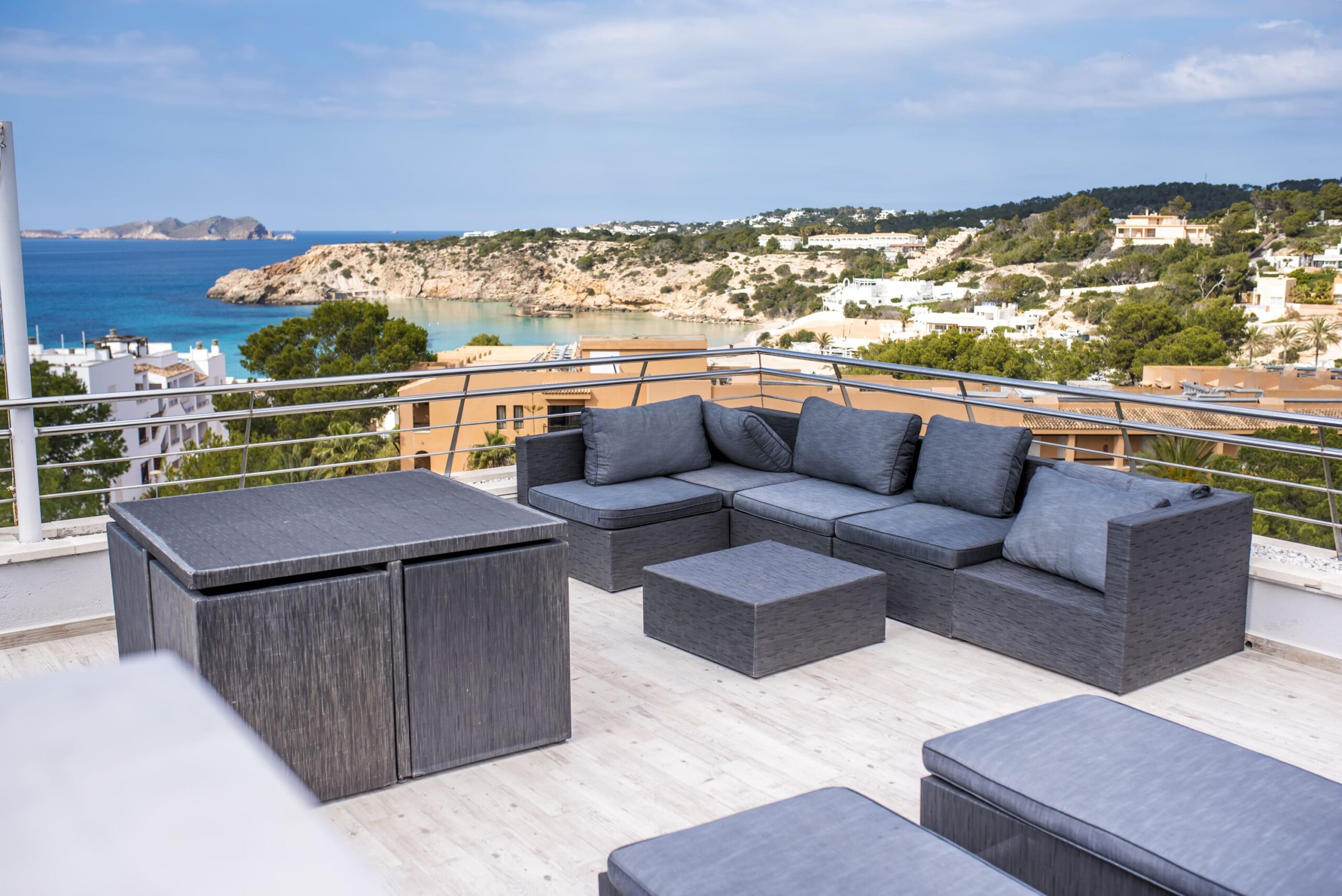 Sea & Sunset Views
Thanks to the convenient south-west orientation of the buildings, the majority of the apartments of Las Terrazas de Cala Tarida let you enjoy spectacular sea and sunset views. The terraces and private gardens range from 33m2 to 98m2. Plenty of room for outdoor entertaining and to enjoy the sun all year round.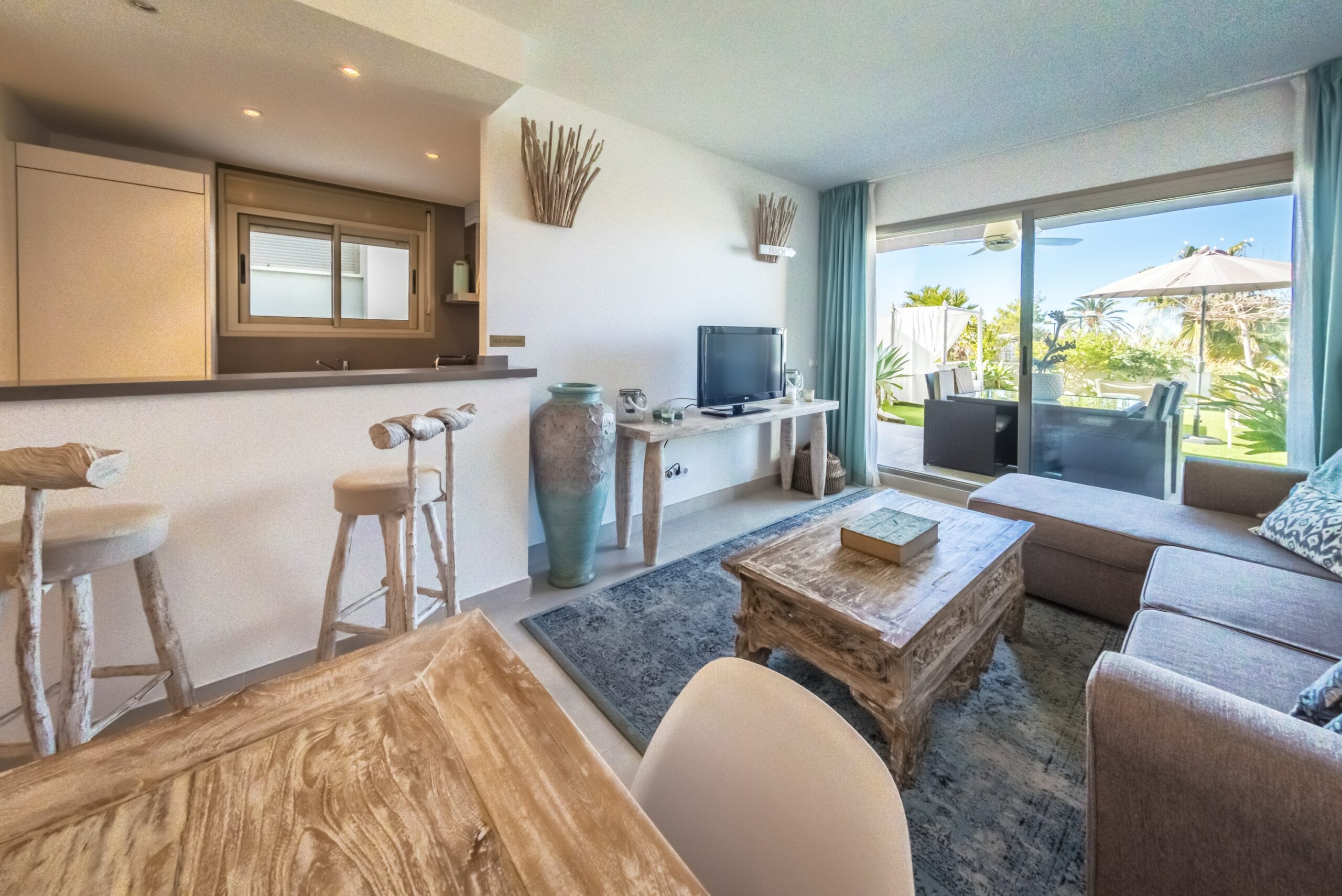 Entertaining Areas
Along with the gorgeous sunsets, you can enjoy some truly well-kept grass lawns and botanical gardens. By paying your community fees of about 140 euros per month, you will never have to worry about removing any weed yourself or cleaning the pool. It is all being taken care of by the onsite concierge and maintenance team. Your kids will feel at home in the kids playground and kids pool.
Moments from the beach and other amenities
When you're in Ibiza, you want to enjoy all the best the island has to offer. This means, numerous food hotspots and beaches. From Las Terrazas de Cala Tarida, it is only a 3-minute walk to the beach restaurants of Cala Tarida. There is something for everyone, whether you want to take your towel and sunbath in the sand on a beach cloth or visit one the more exclusive beach clubs. In this area of the island, you'll find many family friendly restaurants like Cotton Beach Club, Calla Bassa Beach Club and Bagatelle.
Here you can view the video presentation for Las Terrazas de Ibiza
In 2018, the airport of Ibiza has handled 8,1 million passengers, that's 2,5% more than the year before. The biggest passenger increase comes from the winter months – counting from November to March – with the biggest passenger peak in December and March. For a long time, this has been a matter of the chicken...
Read more