Investment Case: Block of Apartments, 5-7% Yearly Return
Are you seeking to invest funds in the real estate market in Ibiza, or, business owners are you looking to host your staff? This is the chance to acquire a frontline block of 12 apartments in Ibiza from which you can assure a good return on investment as the current long-term rental market is tight…
Are you seeking to invest funds in the real estate market in Ibiza, or, business owners are you looking to host your staff? This is the chance to acquire a frontline block of 12 apartments in Ibiza from which you can assure a good return on investment as the current long-term rental market is tight and people are always looking for affordable long-term rental space. Are you, like us, a firm believer in the property market in Ibiza, then you will know that this building is ideally acquired as a longer-term investment (5-10 years) after which you most likely will see a good value appreciation.
Keep reading for a calculation example including optional renovation cost and potential return on investment (ROI).
THE BUILDING
12 Apartments offering each two bedrooms, a bathroom, and big terraces overlooking the sea and bay. This frontline block of apartments in Ibiza has a proven steady yearly return of 5-7% in a rapidly developing area in San Antonio, Ibiza. The building has three floors, each level offering 4 apartments.
The setup of the apartments is more or less the same for each of the apartments. All of them have 2 bedrooms on the back, a separate bathroom, and a living area with an open-plan kitchen that opens to a 20m2 terrace on the front side. There is an elevator in the building and each of the apartments has its own parking spot in the underground garage.
THE LOCATION
The building is located in San Antonio, right in front of Calo des Moro. A few new hotel concepts like "OKU" and "Cubanito Suites" have recently started in this area too. Moreover, the area is popular because of the Cala Gracioneta (Beach and beach club), Es Tragón (the first Michelin-star restaurant in Ibiza), and Sa Capella (another popular restaurant).
Moreover, San Antonio is seen as a tourist area and has been selected as one of the Spanish areas (amongst Playa de Palma, Magaluf, Cala Millor, es Pujols, and Menorca) that will be destined a fund of 4.640 Million euros to modernize the area. In short, these projects are aimed to drive more tourists in a sustainable way and to create jobs. Property prices have gone up by 27% in the municipality and we see that the huge demand for Ibiza, in general, has also reached the initially less in-demand zones. In short, these projects are aimed to drive more tourists in a sustainable way and to create jobs.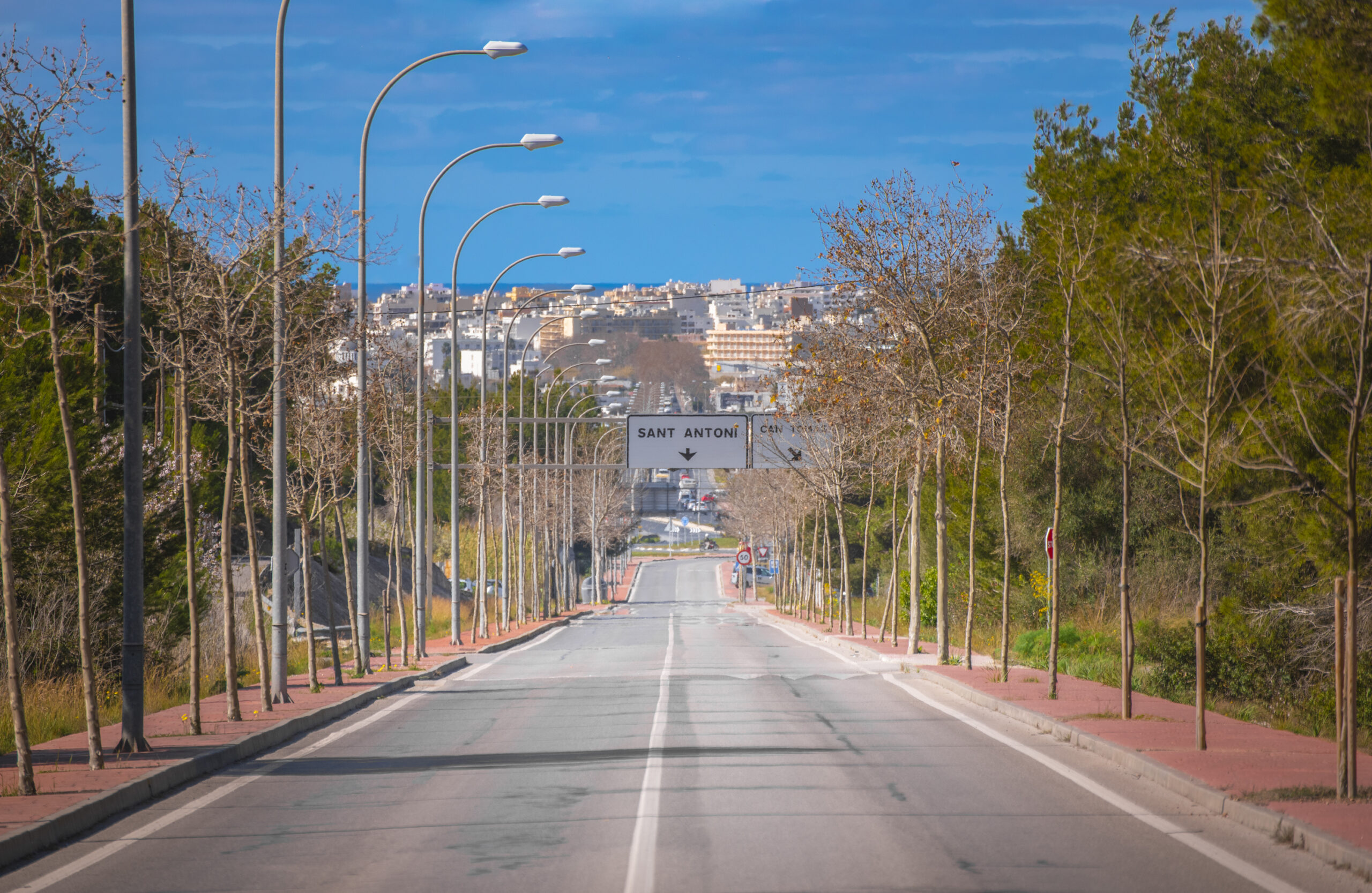 THE NUMBERS
We have studied 2 scenarios that could bring an interesting return in 5-10 years. One of them leaves the building as it is and rents the apartments without any improvement of the building. The other will include an estimation of renovation works and expected returns. Of course, you are free to do what you would like, we are just sketching the scenario based on our experience in the market and on current returns (which we can back up upon request).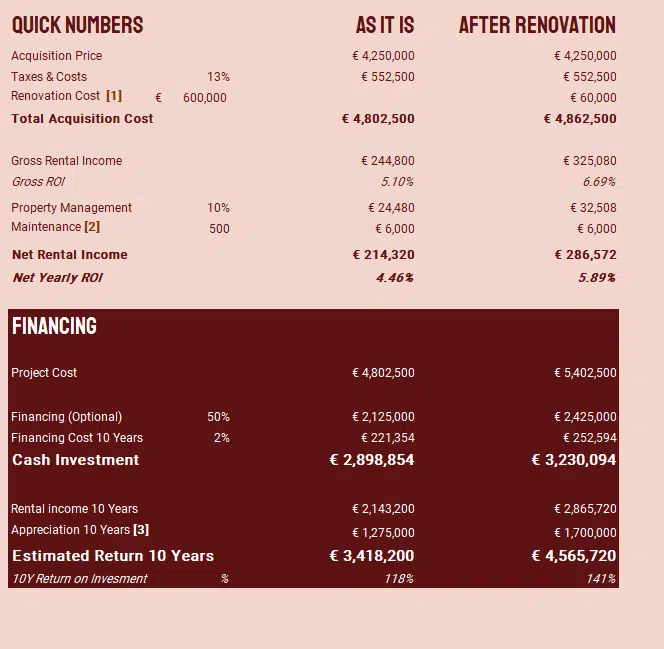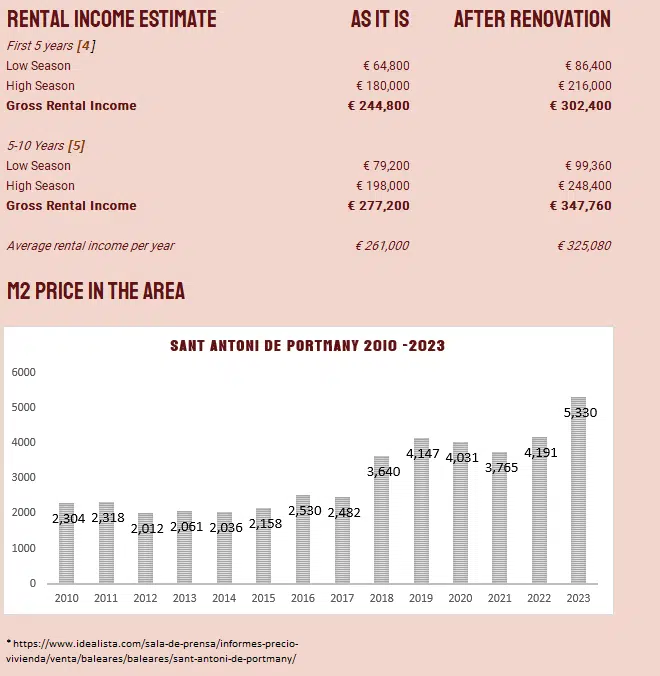 [1] We have considered an investment of €600.000. An investment of €30.000 per apartment including renovation of the kitchens and bathrooms. €240.000 could be allocated to an upgrade of the communal areas.
[2] €500 per apartment has been considered as an allowance for small reparations.
[3] Prices per m2 have increased from €2.304 in 2010 and €5.330 in 2023. This is a price increase of 131% in the past 10 years. The "Appreciation in 10 years" mentioned in the table considers an m2 price over the next 10 years of 30% in the "as it is" simulation and 45% in the simulation "after renovation" (as the renovation itself will also markup the value).
[4] For the "as it is" simulation, we have considered the same rental income over the next 10 years. We don't consider an increase in 5 years as the market increase will be offset by the impairment of the building.
[5] For the "after renovation" simulation, we have considered an increase of rental rates by 15% as the building will have a turnkey standard for tenants for a minimum of 10 years. Consider this 15% as an average.
In all, we think this is a very good investment opportunity. If you are looking for more answers to your questions, floor plans or, are you interested in a viewing on-site? Don't hesitate to contact us.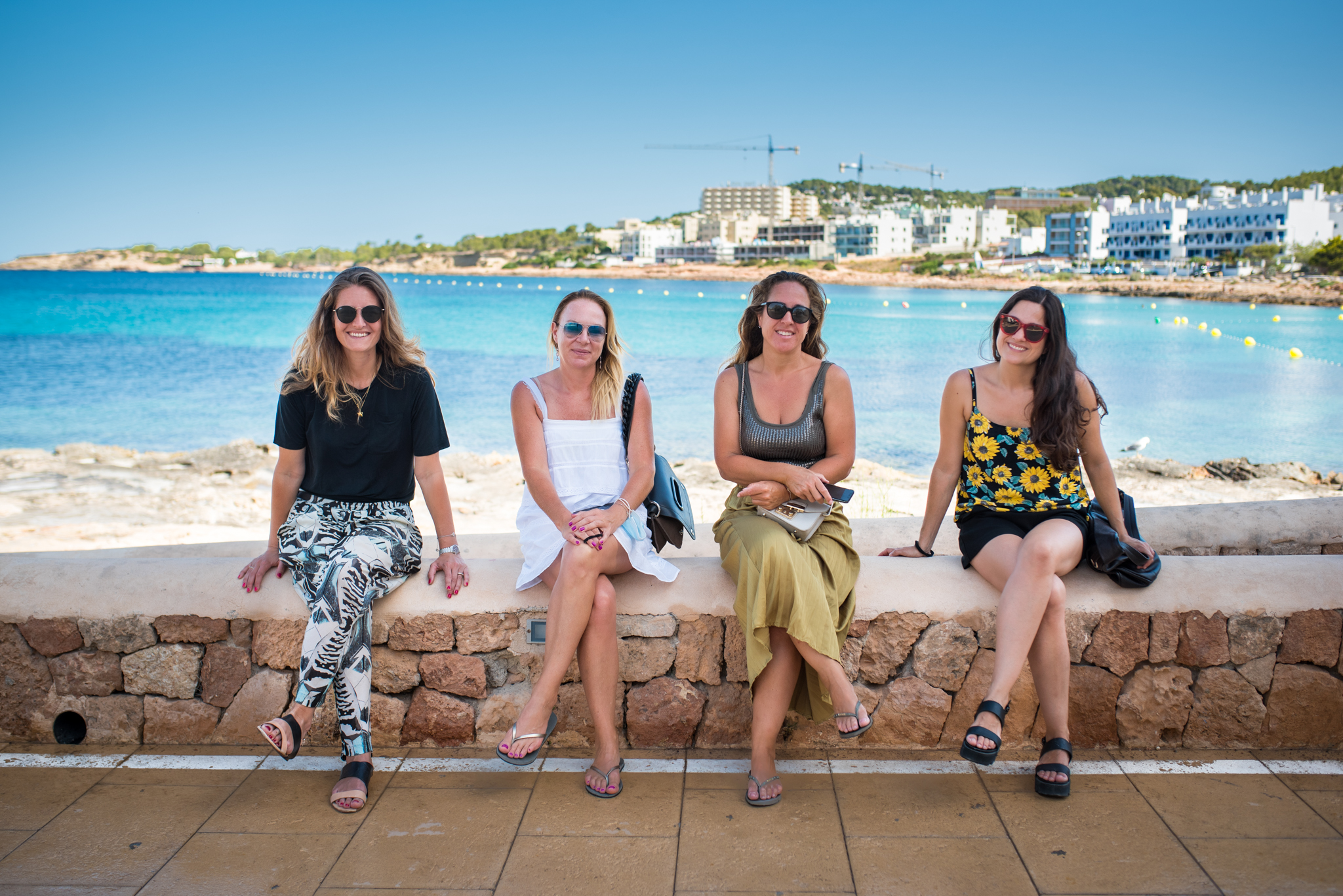 It's REAL, We are setting a wave of goodness in motion. A wave of positivity towards fellow islanders. Islanders with long working hours and kids, but not enough income to get to the end of the month. Join us, as we all can help much more then we think. How can you help? By going...
Read more